Sunray power new energy vehicle inverter, to solve your travel worries
Views:0 Author:Site Editor Publish Time: 2021-04-12 Origin:Site
With the accelerating pace of modern life and the increasing pressure of work, more and more people yearn for pastoral life, and often hope to have a period of leisure time to integrate with their family and friends into nature and breathe fresh air. In China, the way to travel by RV has become more and more popular.
Electric power supply is a big problem during the period of RV travel. The main equipments that need electricity on RV are vehicle lighting, notebook computer, mobile phone, water pump, refrigerator, fan, TV, air conditioner, oven, microwave oven, induction cooker, etc. the power supply of RV is far lower than the power demand.
The power of vehicle battery is limited. If it is used to supply power to electrical appliances, there will be power loss soon. If it is serious, it will lead to insufficient battery power, and the vehicle will not be on fire. Moreover, the long-term use of on-board battery to supply power to electrical appliances will lead to insufficient battery power. Even if the power is generated by driving generator, the battery power will continue to decline.
The new energy on-board inverter of sunray power supply can effectively solve the power supply problem of RV. The sak series pure sine wave on-board inverter newly launched by sunray power supply can be directly used for the power supply of RV. Sak series on-board inverter has the characteristics of fast response, high conversion efficiency, strong load resistance, small input surge current, safe and stable operation, etc. the product has six intelligent protections, including short-circuit protection, overload protection, overvoltage protection, undervoltage protection, overcurrent protection and overtemperature protection.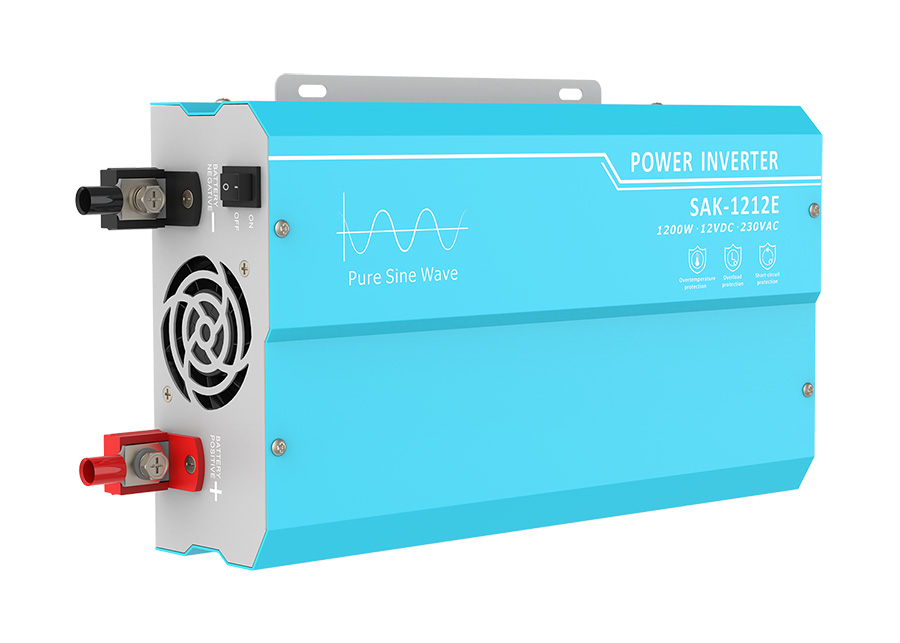 The physical performance of the whole machine is good. The product adopts anti-collision design and exquisite technology. It carefully grinds the fuselage. The fuselage is made of galvanized steel sheet, which is crash and fall resistant. It greatly improves the protection of the interior of the fuselage. The surface is oxidized and has good heat dissipation performance.
With strong load capacity and excellent stability, it can provide the same AC power as ordinary household, and can drive almost any kind of electrical appliances under the condition of meeting the power. Sak series new energy vehicle inverter is simple in appearance, light in volume, simple in operation and easy to install. It adopts intelligent LCD high-definition display, and the operation parameters and state of the product are clear at a glance.
Sunray power new energy vehicle inverter, let your car electricity comfortable, efficient, stable, worry free.